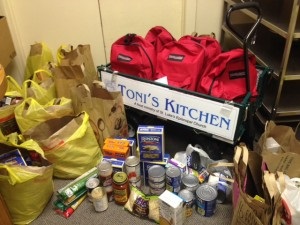 Current Food Needs
We are always in need of food donations, especially for our Healkthy Backpack Program. TO check out the times when you can donate food, click here. Toni's Kitchen is located at St. Luke's Church, 73 S. Fullerton Ave., in Montclair.
To help us fill our backpacks, here are some of the items we could use the most:
Pasta
Pasta Sauce (no glass jars)
Tuna
Canned Fruit
Dried Fruit
Canned Vegetables
Soup
Cereal
Oatmeal
Nuts
Cookies
Rice
Canned Beans
Peanut Butter (no glass jars)
Thank you for your generosity!