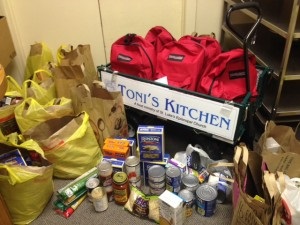 Back to School Means More Backpacks!
September brings kids back to school, and at Toni's Kitchen, that means that our mission becomes even more important. Each week we prepare and distribute 400 backpacks full of healthy food to children and families in need on our area. These backpacks are critical for families to help them meet their food needs.
We distribute these backpacks through community schools, after-school programs, tutoring groups, and other programs. We also provide hot and cold meals to children and families through various programs in our area.
So as our work ramps up, we are in need of food for our healthy backpacks. You can find a list of food we need here. You can also make a financial donation to Toni's Kitchen and designate it specifically for our backpack program if you like by clicking here.
Your contribution of food or funds will really help ensure that children and families in need can get good, healthy food. Please take a moment to donate.
Thank you!