Serving Our Community In These Challenging Times
See how we have responded to the Covid pandemic
DONATE TO TONI'S KITCHEN!
Donate today!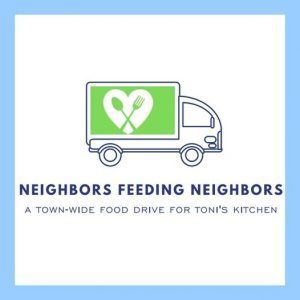 Toni's Kitchen Town-Wide Food Drives
Toni's Kitchen does regular Town-Wide Food Drives as an easy and safe way for people to donate shelf-stable food to Toni's Kitchen during the Covid pandemic. During our Town-Wide Food Drives, people sign up to participate, then leave donations of shelf-stable food on their front porch, or in front of their homes. Toni's sends a driver on that day to come and pick up the donation. The pickup is contactless.
Don't Just Take Our Word for it…
My donations to Toni's go directly to the work. I can see the impact. D.L., Donor
I love working at Toni's Kitchen. The guests are so appreciative. Marilyn, Volunteer
This [backpack] is great! Now when my Mom doesn't have food at home, I can make us dinner! Anonymous, 11-year-old boy