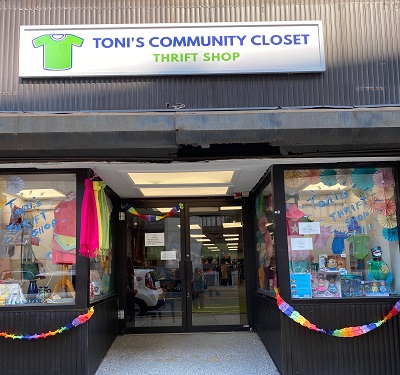 Toni's Community Closet
Good quality clothing can be out of reach for families who experience food need. Toni's Community Closet provides access to quality clothing for a wide variety of food insecure populations. Come support this work!
Toni's Community Closet is a program of Toni's Kitchen.
Click here to see a recent article from Baristanet about Toni's Community Closet's six-month anniversary.
Toni's Community Closet: Mission and Vision
We envision a community where everyone has reliable access to appropriate, good-quality clothing. Through repurposing gently used clothing and housewares, Toni's Community Closet ensures access to these items for low-income neighbors in ways that respect their dignity and strengthens their independence. We are pleased to be gentle custodians of our planet by repurposing items and providing an extended life!
How do your donations to Toni's Community Closet change lives?
Your gently used clothing is repurposed to provide dignity and accessibility to a wide variety of food insecure populations. For those who are homeless or near homeless, Toni's Kitchen distributes warm sweatshirts, socks, and outerwear regularly after our soup kitchen meal. Donations best suited to families will be sold at very low cost through Toni's Community Closet where families and students can shop with dignity.
Proceeds from sales at Toni's Community Closet are used to fund food support programs in our local community.
Location and Contact Info:
Toni's Community Closet
23 Broad Street
Bloomfield, NJ 07003
Email: TonisCloset@gmail.com
Ph: 973-932-0768
Shop Hours:
Wednesday: 10:00 am to 4:00 pm
Saturday: 1:30 pm to 5:00 pm
What items can I donate?
** AT THIS TIME, WE ARE NOT ACCEPTING ADDITIONAL CLOTHING DONATIONS. OUR COMMUNITY HAS BEEN SO GENEROUS THAT WE DON'T REQUIRE ANY CLOTHING DONATIONS AT THIS TIME. WE WILL LET YOU KNOW WHEN WE WILL BE ACCEPTING CLOTHING DONATIONS AGAIN. THANK YOU! **

Are there items you don't take?
We do not take large applicances, furniture, bean bag chairs, carseats, bike helmets, bed pillows, mattresses, TVs, computers, air conditioners, baby furniture, auto parts, trash, chemicals or any type of hazardous materials, as well as other items that do not comply with Consumer Product Safety Standards www.cpsc.gov.
Thank you for supporting our neighbors!